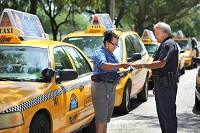 The Taxi Cab Authority in one of America's large counties is using a business automation system we designed to replace an older labor intensive system they were using.
This is the only COTS solution that is specifically engineered to handle the complex relationships of the Vehicle for Hire Relationship. It contains many VFH specific automations that reduced their labor efforts by 1/3.
It also allows them to use iPads or Tablets for vehicle inspections remotely. Inspections can be launched using bar code on vehicle.
Enhanced Solutions Personalized for: